Got $1 or 1 Minute? The Case for Engaging Every (New-in-Practice) Pathologist
Every dollar or minute spent on advocacy is an investment. Although the benefit isn't as immediate as that cup of coffee, it's every bit as real and considerably more important. Yes, there are countless other ways to spend one's time and money. And there are plenty of excuses for not spending anything. New-in-practice pathologists are busy establishing themselves at their jobs, raising young families, paying off hefty medical school loans, paying down mortgages, keeping up with Maintenance of Certification, juggling personal crises, and trying to enjoy some hard-earned leisure time. With all these competing interests, paying dues to your state pathology society, College of American Pathologists (CAP) advocacy, and the American Medical Association (AMA) feels onerous. But declining reimbursement, state and national laws and regulations, and ever-changing threats to our profession are very real, and they aren't going away.
New-in-practice pathologists' engagement in state pathology societies and national organizations like the CAP is critically important not only for succession planning, but also to continue the important work of securing our futures. Without engagement from new-in-practice members, we risk losing out to competing interests, slipping into apathy and becoming glass pushers hiding in the basement rather than invested and engaged physicians who can better serve patients and communities. Of course, not everyone has what it takes to develop long-term, personal relationships with your senator or state representative. But even the smallest peep is better than no voice at all. Advocacy is strength in numbers. And it's about building a powerful collective voice. It only takes a minute to plug in your zip code and shoot off an automated email to your congressmen or congresswoman during those "Call to Action" campaigns.
On behalf of new-in-practice pathologists who are engaged, I urge those who are not to take a few small steps toward ensuring our collective survival and continued prosperity. Engagement in state pathology societies and national organizations has many benefits, particularly networking for jobs, a chance to make new and lifelong friends, opportunities for professional development and advancement, education, and stepping out of your day-to-day bubble into a broader pathology community. As new-in-practice pathologists, we bring unique perspectives and experiences, a demand for diversity, energy, optimism, a collaborative spirit, fresh ideas and solutions…all are needed. So start where you can, even if it's only $1 or 1 minute. Pretty soon, you could find yourself meeting legislators in Washington D.C., working on committees, organizing meetings, and serving as a leader and role model in our profession…and enjoying it!
---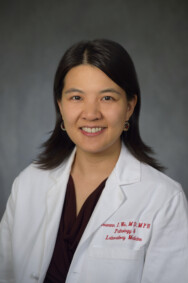 Roseann I. Wu, MD, MPH, FCAP, is a staff pathologist and assistant professor of clinical pathology & laboratory medicine at the Perelman School of Medicine/University of Pennsylvania Health System in Philadelphia. She has clinical and educational responsibilities in cytopathology, breast and pulmonary surgical pathology, and medical pathology. Her interests include fine-needle aspiration, organized pathology, and innovative ways to deliver pathology education.