Giving and Receiving Feedback in Your New Role
Just as new dance partners may step on one another's toes or misinterpret signals for directing their routine, establishing or integrating into a culture of bidirectional feedback at your new workplace takes time and practice. However, the rewards for mastering this skill include improved rapport, performance, and overall productivity in the workplace.
Thinking about your training, was there ever a time when you wished for more feedback, or more timely feedback? For instance, have you ever gotten an angry phone call from an attending who is upset that you've been grossing a certain type of specimen wrong for months—when this is the first time they've ever spoken to you? You might think: "Why didn't you tell me that earlier?!" Had that attending just let you know the FIRST time around, it would have saved them (and you) a lot of frustration!
The Importance of Feedback in Your New Practice
While feedback is a tool that promotes lifelong learning, it is especially crucial that new pathologists learn to both give and receive feedback effectively as they begin to practice independently. Change can be challenging and feedback can provide ongoing direction throughout the transition from trainee to attending to support growth as a professional and medical expert. Feedback from pathologist colleagues, lab staff, and other members of the treatment team is key to transitioning smoothly into a new practice environment; to learn practice patterns, absorb the practice culture, and ensure consistency. All of these help new pathologists become more effective in their role. Not only is it essential for new pathologists to receive feedback from others in their new environment, they must also learn to give feedback effectively to their team members to demonstrate their commitment to contributing to continuous improvement. As a newly-minted practicing pathologist, a common barrier is the fear that feedback will result in an emotional outburst. We all want to nurture and encourage our staff-but not giving them needed feedback is detrimental to not only improvement but also a culture of trust.
Barriers to Feedback Exchange
Barriers to feedback may include lack of time, fear of emotional reactions, and uncertainty about expectations. Feedback is most effective when it is exchanged bidirectionally between individuals who have established a relationship of trust. When you start working at a new practice, you will be unfamiliar with the current feedback culture, and your coworkers will likewise be unacquainted with your communication style and work habits. These unknowns can contribute to both parties feeling self-conscious and intimidated about giving feedback.
New pathologists are often pressed for time, with the pressures of having to sign out cases (sometimes for the first time) as well as potentially having to adjust to new workflows, EHRs, and co-workers. Feedback need not take long to give and can save time and frustration in the long run by preventing repeated missteps.
Tips to Enhance Feedback in your New Workplace
When starting a new job, share your professional values with your colleagues and project an openness to communication. If feedback exchange is lacking, start small by establishing trusted relationships with colleagues and demonstrating your commitment to helping them improve while requesting they do the same for you in return. Seek feedback from coworkers at every level--a useful phrase to ask is, "What's one thing I can do to improve?" and really LISTEN to the response. Once you have established a trusted relationship dedicated to mutual improvement and have learned your feedback partner's preferences, you're ready to go. Of course, establishing feedback rapport on top of signing out cases independently for the first time can be a challenge. Practicing feedback throughout residency and fellowship training with the wide array of personnel you work alongside will prepare you with the skillset to quickly establish rapport with new coworkers that will lead to an effective bidirectional feedback exchange. This investment before and after starting your new career will continue to pay off as your colleagues help you improve continually, and you demonstrate your commitment to quality improvement of your laboratory by giving feedback effectively.
Want to learn more about feedback? Check out our review in Archives!2
References:
Bing-You R, Varaklis K, Hayes V, Trowbridge R, Kemp H, McKelvy D. The Feedback Tango: An Integrative Review and Analysis of the Content of the Teacher-Learner Feedback Exchange. Acad Med. 2017 Oct 3. doi: 10.1097/ACM.0000000000001927. [Epub ahead of print] PubMed PMID: 28991848.
Rachel Jug, Xiaoyin "Sara" Jiang, and Sarah M. Bean (2018) Giving and Receiving Effective Feedback: A Review Article and How-To Guide. Archives of Pathology & Laboratory Medicine In-Press. https://doi.org/10.5858/arpa.2018-0058-RA
---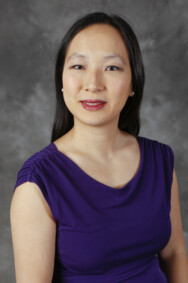 Dr. Xiaoyin "Sara" Jiang, MD, is an associate professor of pathology at Duke University. She is associate director of Duke's Biorepository and Precision Pathology Center (BRPC). Her areas of research and expertise are cytopathology and surgical pathology of the head and neck and endocrine systems, and novel applications of social media for medical professionals. She is active in committees and leadership within national pathology and medical organizations including the USCAP, ATA, CAP, and ASC. Dr. Jiang has been honored with local and national awards, which include being named as one of the ASCP's 2017 "40 under 40" Top Five and making Pathologist Magazine's "Power List."
Rachel Jug, MB BCh BAO, is a fourth year anatomical & clinical pathology resident at Duke Health in Durham, North Carolina. Dr. Jug will be pursuing fellowships in cytopathology and transfusion medicine. Her academic interests span clinical and translational research to medical education and practice guideline development.