Soft Tissue of the Chest Wall
Clinical Summary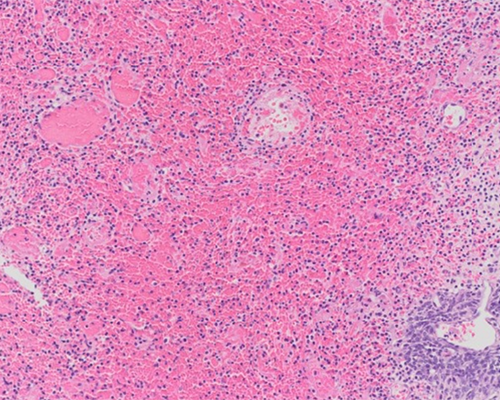 A 55-year-old woman presents with non-productive cough of several-weeks duration. Computerized tomography shows a 9 x 9 cm mass of the left chest wall centered on the sixth intercostal space without encroachment on the sixth rib. The mass is resected. On gross examination, the tumor is relatively well-circumscribed, soft, grey-white, and fleshy with areas of hemorrhage and necrosis on sectioning. The neoplasm is focally positive for EMA and negative for CD34 by immunohistochemistry.
Master List of Diagnoses
Cellular schwannoma
Fibrosarcoma
Malignant peripheral nerve sheath tumor
Solitary fibrous tumor
Synovial sarcoma
View slide image with DigitalScope
Archive Case and Diagnosis
This case first appeared as Performance Improvement Program in Surgical Pathology (PIP) 2018, Case 19, and is a Synovial sarcoma of the chest wall soft tissue.
Criteria for Diagnosis and Comments
Histologic sections show sheets and fascicles of relatively uniform spindled cells with scant cytoplasm and ovoid bland but hyperchromatic nuclei with inconspicuous nucleoli. Strands of ropy and wiry collagen and bands of hyalinized collagen are present. Mitotic figures are present and, in some areas, exceed 15 per 10 high power fields (HPF). Variable areas of myxoid change and staghorn-type vascular pattern can be appreciated in some sections. These histologic changes, in combination with the immunohistochemical findings of focally positive EMA staining and negative CD34, are consistent with a diagnosis of monophasic synovial sarcoma (SS).
SS accounts for 7% to 10% of all soft tissue sarcomas with a median age of 30 years and a slight male predominance. Most tumors arise in the deep soft tissues of extremities, often in a juxta-articular location. Less common sites of occurrence include the trunk, head and neck region and body cavities. SS usually presents as a slow growing, often painful mass that is not otherwise distinctive clinically.
Grossly, SS is typically well-circumscribed and measures from 3 to 10 cm. On cut surface, the color and consistency are variable and range from tan-gray to yellowish pink and soft to firm. Hemorrhage, necrosis, calcification, and metaplastic ossification may be present.
Histologically, SS can be biphasic with an epithelial and spindle cell component (20% to 30% of cases) or monophasic with predominantly spindle cells (70% to 80% of cases). The epithelial cells in biphasic SS are arranged in solid nests, strands, or can form glands containing luminal epithelial mucin. The spindle cells in biphasic SS and monophasic SS are similar and consist of relatively uniform, small cells with scant cytoplasm and hyperchromatic nuclei. These cells are arranged in dense cellular sheets or fascicles and occasionally show nuclear palisading or a herringbone pattern. There is a variable amount of ropy collagen. Myxoid changes and staghorn type vessels are frequently seen. Abundant mast cells can be present.
In an otherwise typical biphasic or monophasic SS, poorly differentiated areas with spindle or rounded cells showing severe nuclear atypia and mitotic figures exceeding 15 per 10 HPF can be present. These areas often contain necrosis, and cells with rhabdoid differentiation may occasionally be seen.
By immunohistochemistry, the epithelial cells in biphasic SS consistently express EMA and keratins. The spindle cells express EMA in nearly all cases and focal expression of keratin in 70% to 80% of cases. A majority of SS are positive for CD99 (membranous staining) and transducin-like enhancer of split 1 (TLE1) (nuclear staining). Focal S-100 protein positivity may be seen, but CD34 staining is very rare.
SS is characterized by a t(X;18)(p11;q11) translocation resulting in fusion of SS18 gene (also known as SYT or SSXT) on chromosome 18 and one of the SSX genes (SSX 1, 2, or 4) on the X chromosome. This distinctive chromosomal translocation appears to be specific for SS and can be diagnosed by classic cytogenetics, fluorescence in-situ hybridization (FISH), or by reverse transcription polymerase chain reaction (RT-PCR). FISH studies have shown the translocation in both the epithelial and spindle cells of biphasic SS.
Surgical excision is the mainstay of treatment for SS with optional radiotherapy to potentially improve outlook. Chemotherapy might be recommended, especially in advanced or metastatic disease, but there is no general consensus regarding the role of chemotherapy in preventing metastases and improving survival.
Favorable prognostic factors are low tumor stage at presentation, tumor size <5 cm, peripheral location, young age (<20 years of age), mitotic count of <10 per HPF, poorly differentiated histology in <20% of the tumor, and no necrosis. Metastases most commonly involve the lung, and massive pleuropulmonary metastasis is the leading cause of death. The 5- and 10-year disease specific survival is 83% and 75% in children and adolescents and 62% and 52% in adult, respectively. The prognostic significance of monophasic versus biphasic histology is controversial.
The histologic differential diagnosis of SS includes other tumors with mixed epithelial/spindle cell components, tumors with a glandular pattern and pure spindle cell sarcomas. Fortunately, the distinctive cytogenetic translocation seen in SS is not common to any of the entities to be considered in the differential diagnosis.
Histologically, fibrosarcoma shows a more extensive herringbone pattern and is typically negative for EMA and keratins.
SS with palisades of spindle cells and focal S100 positivity may resemble a cellular schwannoma; however, monophasic SS is more homogenous and cellular than schwannoma.
Poorly differentiated SS with a fascicular pattern and biphasic SS may be confused for malignant peripheral nerve sheath tumor (MPNST). However, in contrast to SS, MPNSTs typically involve a nerve or neurofibroma and may be associated with von Recklinghausen syndrome (Neurofibromatosis type I).
Solitary fibrous tumor shows a more prominent hemangiopericytoma-like vascular pattern and is typically positive for CD34, a feature that helps distinguish it from SS.
Supplementary Questions
Which of the following is the most common location of synovial sarcoma (SS) metastasis?



Bone
Liver
Lung
Lymph nodes
Skin

Which of the following is most distinctive of SS?



Biphasic histology
Chromosomal translocation t(X:18)(p11:q11)
Hemangiopericytoma-like vascular pattern
Herringbone pattern
Uniform staining for S100 protein

Which of the following is true regarding SS?



Adult patients have a much better prognosis than children.
Biphasic tumors have a significantly better prognosis.
Chemoradiation is the most effective treatment.
High mitotic index (greater than 15 per 10 HPF) is an adverse prognostic indicator.
The most common site of involvement is the trunk.
---
References
Kawano D, Yoshino I, Shoji F, Morodomi Y, Yano T et al. Synovial sarcoma of the chest wall. Gen Thorac Cardiovasc Surg. 2010;58(2):95-97.
Kubo T, Shimose S, Fujimori J, Furuta T, Ochi M. Prognostic value of SS18-SSX fusion type in synovial sarcoma; systematic review and meta-analysis. Springerplus. 2015;4:375.
Miettinen M. Primary soft tissue tumors with epithelial differentiation. In: Miettinen M (Ed). Modern Soft Tissue Pathology. Tumors and non-neoplastic conditions. Cambridge, UK. Cambridge University Press; 2010; 777-787.
Mirzoyan M, Muslimani A, Setrakian S, Swedeh M, Daw HA. Primary pleuropulmonary synovial sarcoma. Clin Lung Cancer. 2008;9(5):257-261.
Suurmeijer AJH, de Bruijn D, Geurts van Kessel A, Miettinen MM. Synovial sarcoma. In: Fletcher C, Bridge J, Hogendoorn P, Mertens F, eds. WHO Classification of Tumours of Soft Tissue and Bone. Lyon, FR: IARC; 2013;213-215.
---
Author
Vijaya B. Reddy, MD
Surgical Pathology Committee
Rush University Medical Center
Chicago, IL
---
Answer Key
Lung (c)
Chromosomal translocation t(X:18)(p11:q11) (b)
High mitotic index (greater than 15 per 10 HPF) is an adverse prognostic indicator. (d)