November 23, 2021
In this Issue:
Cigna Responds to CAP's Call for Clarity on Revised PC of CP Payment Policy
Following a request for additional details on its payment policy change, Cigna provided the CAP with further clarity on a revised policy for the professional component of clinical pathology (PC of CP) when billed by pathologists. The CAP asked Cigna for additional details on October 26 after the insurer acknowledged the role of pathologists in providing laboratory management and oversight services.
In a November 12 letter to the CAP, Cigna explained that individual pathologists should submit claims for the PC of CP, and if "the facility … has already received payment for the service through their contract with Cigna," they will be notified in the form of a denial through Cigna's claim system. At that point, the pathologist should communicate with their facility (see pages 6-7 of the CAP's PC Billing Information Package) to determine whether payment for these services were in fact received from Cigna by the facility and, if the denial was made in error, then "this denial carries with it a right to appeal."
In the CAP's letter to Cigna on October 26, the CAP had requested clarification on how Cigna proposes operationalizing its policy and ensuring pathologists receive appropriate payment for these services. The CAP has opposed policies to deny payment and has urged the insurer to continue paying for the PC of CP services for all pathologists. In a CAP letter to Cigna on April 23, the CAP argued that discontinuing reimbursement for these services would prove detrimental to patients, and to the integrated delivery of care to which laboratory diagnostic services are central. After successfully stopping Cigna from implementing the original policy, Cigna acknowledged the "payment for the service" and revised the policy as outlined above.
The CAP remains engaged on this issue and will continue advocating for appropriate payment for the PC of CP. View the CAP's Private Sector Webpage for more information.
Billing for the Professional Component of Clinical Pathology Services: CAP Resources
The CAP has guidance and information for its members on billing for the professional component of clinical pathology services. In professional component billing, although the hospital may bill the patient's insurer for the pathologist's technical services, the pathologist can bill the insurer or the hospital directly for the corresponding professional services. The CAP supports professional component billing as one valid method of billing by pathologists for their clinical pathology services.
For several years, the CAP has provided its members with support and an information package providing additional explanation of this issue with copies of guidance documents from the American Medical Association, an overview of the positions of private insurance companies, and a summary of key private litigation on professional component billing for non-Medicare patients. A CAP-member login is required to download the information package.
For more resources, go to the CAP's practice management webpage for Contracts-Negotiations and Fee Schedules.
House Bill Would Mitigate 2022 Medicare Cuts to Pathologists and Respond to CAP Advocacy
New legislation introduced in the House of Representatives would extend relief that physicians received from Medicare cuts for 2021 through 2022.
CAP President Emily E. Volk, MD, FCAP thanked Reps. Ami Bera, MD (D-CA) and Larry Bucshon, MD (R-IN) for introducing the Supporting Medicare Providers Act of 2021 on November 19.
"On behalf of pathologists serving seniors in communities across the country, the CAP strongly urges Congress to address the pending Medicare cuts to all pathology services by enacting Reps. Bera and Bucshon's bill into law," Dr. Volk said. "If the relief prescribed in their legislation is not granted, the effect of these cuts will be felt in every state and will further exacerbate health care disparities that exist in rural and urban areas. Our chief concern is that if the Medicare cuts go through in 2022, access to health care services will decrease disproportionally and will grossly affect the physicians caring for our most vulnerable patients."
Reps. Bera and Bucshon led the successful effort last year to mitigate proposed cuts in health care payments, including introducing the bipartisan Holding Providers Harmless from Medicare Cuts During COVID-19 Act of 2020 and leading the coalition of Members and stakeholders advocating for the final relief passed by Congress. In December 2020, lawmakers followed through by including a 3.75% Medicare payment increase, which mitigated budget neutrality cuts stemming from the CMS's policy to increase payment for evaluation and management services, for the 2021 Medicare Physician Fee Schedule and pausing budgetary sequestration cuts.
The CAP has supported this relief be extended for another year. The Supporting Medicare Providers Act of 2021 would do just that by extending the 3.75% adjustment for an additional year.
CAP, 60 Physician and Health Professional Groups Support Vaccination Requirement
The CAP and more than 60 medical professional groups, including the American Medical Association, issued a statement in support of a new Occupational, Safety and Health Administration's (OSHA) requirement that directs large employers to ensure their workers are fully vaccinated or tested weekly for COVID-19. The Biden Administration already requires Health care workers to get COVID-19 vaccinations by January 4. The CAP has supported vaccine requirements for health care workers and encouraged Americans to be fully vaccinated against the coronavirus.
The physician and health care professional organizations signed on to the statement led by health care policy expert Ezekiel Emanuel, MD, PhD. The OSHA requirements are designed to protect workers' health and safety. On November 4, OSHA issued a temporary emergency standard that established binding requirements for employers with 100 or more employees to mandate that their workers are either fully vaccinated or tested for COVID at least once per week.
According to the statement signed by the CAP, the workplace is a common setting for COVID-19 transmission. For example, North Carolina estimated that nearly a quarter of its COVID-19 outbreaks are linked to workplace, retail, and food settings. Nationally, more police officers have died from COVID-19 this year than from all other causes combined. While some people can work from home, most Americans do not have this option. All workers should be protected from acquiring COVID-19 while at work, the statement said.
FDA Updates LDT Policy for COVID-19 Tests
On November 15, the Department of Health and Human Services announced it withdrew a Trump Administration policy limiting the Food and Drug Administration's (FDA) review of laboratory-developed tests (LDTs) for COVID-19.
The FDA now generally expects newly offered COVID-19 tests, including LDTs, to have an emergency use authorization (EUA), or traditional marketing authorization such as a granted De Novo or cleared 510(k), prior to clinical use, the agency said.
For more information, read the guidance document from the FDA. Additional frequently asked questions regarding testing for SARS-CoV-2 is also available from the FDA.
2021 Practice Leader Survey Report: Pathologist Practice Rising Testing Volumes
The CAP published the 2021 Practice Leaders Survey Report, providing the latest socioeconomic data on pathology practices' structure and ownership status, case volume and revenue mix, practice staffing, and problems they are incur with coverage and payment for services.
The 2021 report focused on pathology practice settings and recovering non-COVID-19 testing volumes.
The report had key findings about recovering non-COVID-19 testing volumes.
Changes in Laboratory Testing Volume Compared to the Prior Year, April 2020 – May 2021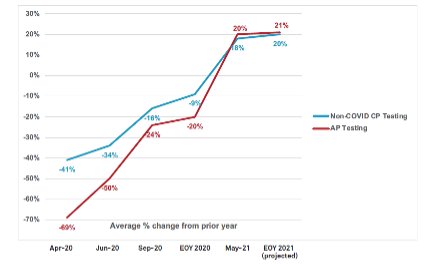 Note: "EOY" means "End of Year". The April 2020 compares volume from the same month in 2019; all other data points are year-to-date comparisons to the prior year. Source: Q12 - Using your best estimate, how has the volume of clinical pathology and anatomic pathology changed between the first five months of calendar year 2021 and the same period in calendar year 2020 for your practice? If there has been no change, please select "0"; Source: Q13 - Using your best estimate, how much do you expect the volume of clinical pathology and anatomic pathology to change in your practice from calendar year 2020 to calendar year 2021 for your practice? If you expect no change, please select "0"; COVID-19 Pathologist Impact Survey Report: Findings from the CAP's 2nd COVID-19 Pathologist Impact Survey (March 2021).
For the first time since the beginning of the COVID-19 pandemic, practice leaders' year-to-date changes in non-COVID-19 clinical pathology testing and anatomic pathology testing was higher than in prior years. The average change in non-COVID-19 CP testing volume in May 2021 was 18% compared to May 2020, and the average change in AP testing volume was 20%. Practice leaders expected this trend to continue through the end of the year.
This represents a continuing improvement from the beginning of the pandemic. As shown above, at the beginning of the pandemic (April 2020), non-COVID-19 laboratory testing had dropped by an average of 41% compared to April 2019, and AP testing had fallen by an average of 69%. Subsequent CAP surveys showed slow but continued improvement in year-to-date testing volume compared to the prior year.
Download the full 2021 Practice Leader Survey report (member login is required).
Webinar: CAP Insights on No Surprises Act Implementation
Join CAP experts as they discuss the regulatory policies for the No Surprises Act and how new rules for out-of-network bills will affect pathologists starting in 2022.
In recent months, the Biden Administration has sought to implement requirements enacted in the No Surprises Act, which sought to protect patients from receiving unexpected medical bills for out-of-network care. During the webinar, attendees will receive an overview of the new law and the regulatory requirements that affect reimbursement. Participants will learn:
How qualifying payment amounts are determined.
The independent dispute resolution timeline and process rules
How the No Surprises Act impacts state laws
Webinar presenters will be the Council on Government and Professional Affairs Chair Jonathan Myles, MD, FCAP and Economic Affairs Committee member Theresa S. Emory, MD, FCAP. At the end of the program, Drs. Myles and Emory will take your questions.
Webinar on December 3 – Final 2022 Medicare Payment Regulations Impact on Pathology Services
The Centers for Medicare & Medicaid Services (CMS) released the final 2022 Medicare Physician Fee Schedule and the Quality Payment Program regulations, including the Merit-based Incentive Payment System (MIPS). On Friday, December 3 at 1 PM ET/ 12 PM CT, the CAP will offer a complimentary live webinar where CAP experts will review the final regulation that will impact payment for services and pathologists' participation in the Quality Payment Program.
Webinar presenters will be the Council on Government and Professional Affairs Chair Jonathan Myles, MD, FCAP; Economic Affairs Committee Chair Stephen Black-Schaffer MD, FCAP; Economic Affairs Committee Vice-Chair Ronald McLawhon, MD, FCAP, and Quality and Clinical Data Registry Affairs Committee Chair Diana Cardona, MD, FCAP.
Last Week to Take November Advocacy News Quiz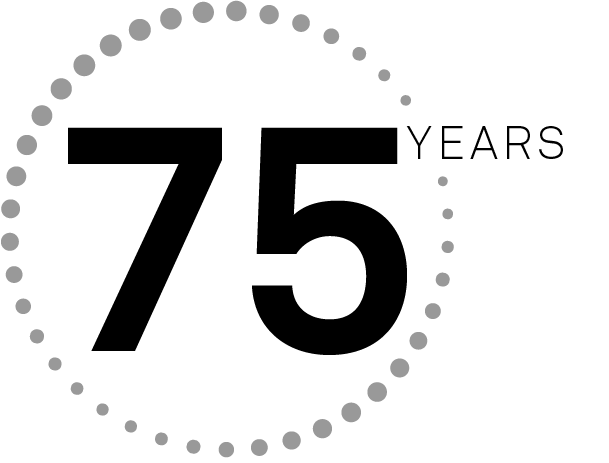 It's the last week of November and the last chance to win CAP's 75th anniversary special prize for taking the quiz. Last month, over 100 pathologists took the quiz. See how you compare against your fellow CAP members' and brag about your top scores on social!
Editor's Note: Next CAP Advocacy Update is December 7
Your Advocacy Update newsletter will take a scheduled break on November 30 due to the Thanksgiving holiday. For more immediate updates, please check out our Twitter feed @CAPDCAdvocacy.