How I Made the Most of My Transitional Year Residency
Casey Schukow, DO shares his experience with navigating a transitional year residency and gives advice on making the most of this time.
---
I am a transitional year (TY) resident at ProMedica Monroe Regional Hospital in Monroe, Michigan. This year, I am applying for pathology residency and, like many other applicants this cycle, I am filled with nervousness and excitement as I await Match Day. 
This is my second go-around with the matching process. Although I am hopeful this year, I cannot help but be reminded of the devastation during Match Day last year when I did not match. However, with tremendous support from my family, friends, and my newfound pathology village, I can say with 100% certainty that I am transitioning into the field I was meant to be in all along. 

My advice to any applicant is to find a field and a group of people who "match your vibe." Personally, I found similarities between football and pathology, which I reflected on in my personal statement. Wherever you find your niche, enter a medical career where you feel that you can be your true, authentic, and, as NFL quarterback Aaron Rodgers would say, your "unapologetic self." Here I share how others can make the most out of a Transitional Year residency while staying involved with pathology and remaining their unapologetic selves.

Participate in pathology interest groups
After weeks of self-reflection following Match Day last year, I reached out to the pathologist and faculty mentor of my alma mater, Michigan State University's pathology interest group. Once he got me involved with the program, the rest became history. As an alumnus, I serve the MSU CHM-COM Pathology Interest Group as the Education & Research Coordinator, establishing alumni relations with pathology residents and facilitating research projects among medical students interested in the field. 
I also joined the Virtual Pathology Student Interest Group, where I currently serve as a resident mentor. In this position, I have been able to help guide the medical student executive board members as they prepare group activities, sessions, and other correspondence. A personal highlight of my time with the group was presenting alongside the group's other resident mentor, Dr. Isabella Dishong, about my residency experiences during a symposium on "The Modern Pathologist." This group is unique because any applicant can join as a member, including those from institutions without their own affiliated pathology interest groups.
Engage in social media
I like to think of pathology social media as daily "virtual sign-outs" that anyone with internet access can explore for free. Many pathologists enjoy using social media, and residency applicants should not underestimate its value.
The question, naturally, then becomes,  which platforms should I join? Start with at least one. Following the hashtag #PathTwitter on Twitter is a great place to start. Both Dr. Jerad Gardner and the Digital Content Committee have great "How-To" social media guides for beginners. I know it may seem awkward putting yourself out there (and, in my case, explaining to the world numerous times what it feels like not to match). But social media allowed me to build new connections and relationships with pathologists, trainees, and pathology-interested medical students from around the globe.
Support a cause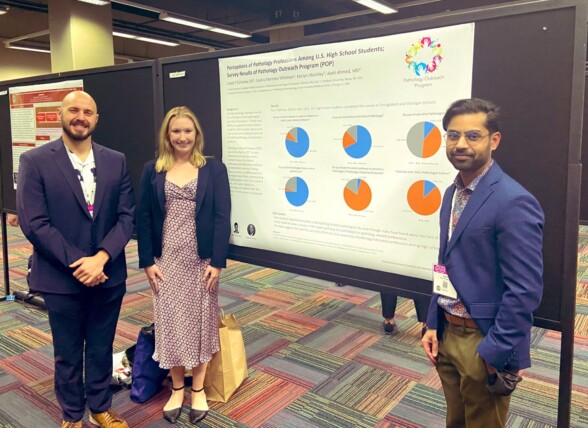 One of these engagement opportunities brought me to Dr. Aadil Ahmed, a faculty hematopathologist and dermatopathologist at Rush University Medical Center in Chicago, While scrolling through #PathTwitter, I came across a post from Dr. Ahmed regarding the Pathology Outreach Program (POP), and his mission to increase awareness of the field to high school and medical students in the Chicagoland area. This inspired me to bring POP to Michigan and my former high school. With help from motivated students who had attended one of Dr. Ahmed's POP sessions, we presented a poster on pre-course survey data at ASCP's 2022 Annual Conference (published abstract). We will be presenting a poster on post-course survey data at USCAP's 2023 Annual Conference.
Take on a fellowship
Kudos to Dr. Kamran Mirza and Dr. Michael Schubert for all the work they have put into the Digital Communications Fellowship in Pathology. This fellowship helps individuals develop leadership in modern communication while learning directly from expert faculty in the field. Sessions are virtual, making it easy to attend lectures despite a busy clinical schedule as a TY resident. Moreover, it is another source of excellent relationships with faculty and international colleagues.
Visit pathology-focused websites
Dr. Mirza also worked with Cullen Lilley to create PathElective, an invaluable resource. Through the free modules on PathElective, and the help of my mentors, I was able to create study guides and flashcards. In addition to utilizing PathElective, I wrote book chapters for StatPearls and contributed pages to Pathology Outlines over the past year. I have been involved in several pathology research projects as well.
However, while I will always encourage applicants to get involved with meaningful research projects, I believe there are many ways to demonstrate one's interest in a field other than manuscripts, posters, and oral presentations. Research takes a significant amount of time, often more than a year from idea to publication. Those who may only have a year or less to showcase their pathology interests may be better off working on shorter projects, which can get published in a few months, on websites such as those mentioned above. 
Join a rotation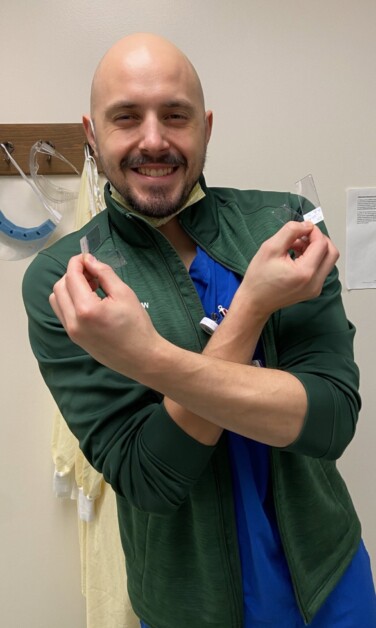 A final kudos must go out to my TY residency leadership team for allowing me to join two rotations. I was the first resident they have had request pathology rotations as electives! My first block in July 2022 was one-on-one with a pathologist at my TY base hospital. She did an excellent job introducing me to bread-and-butter community hospital surgical pathology. I had a blast learning how to sign out cases, lead a lab, and communicate with other providers regarding biopsy inquiries. Several months later, I rotated with the University of Toledo Pathology Residency Program and enjoyed it immensely! The crew there, led by Dr. Amira Gohara, welcomed me as a member of their team, where I learned much more about the inner workings of a pathology residency program. I even got to do my first-ever frozen section on a hot dog.
I was able to reflect on these experiences throughout the course of my interview season, and they ultimately confirmed that I was making the right career choice after all. If you find yourself in a preliminary year program prior to applying for pathology residency, ask your program's leadership if they can accommodate a pathology elective rotation (even if it must be an away rotation). Pathology departments are all over, although not every department accepts rotators. Nevertheless, let them know and ask. The worst they can say is no, right? Some residency programs, such as Loyola University Chicago, offer virtual pathology rotations.

If you find yourself in a TY residency, know that you can make the most of it and remain heavily involved in pathology. If there is any advice I can offer regarding the match, please take the following words to heart:

Always be yourself.
Never underestimate the importance of kindness and professionality.
Show up on time.

Get the work done while being efficient and thorough.
Communicate effectively.
Own your mistakes.
Read the room (e.g., know when to start and stop talking).
Go where you feel wanted.
Build strong relationships with your co-workers.
Work hard but have fun!
More About Me
While I am not studying pathology, I fill my time watching anime with my fiancé (who is a current family medicine residency applicant), watching football, exercising, cooking, listening to podcasts and music, hanging out with my family and friends, or tending to our pet dwarf shrimp. Yes, we have pet dwarf shrimp—they are super fun!)
---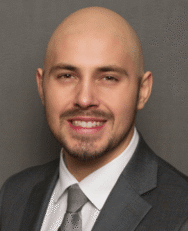 Casey Schukow, DO, is a pathology resident at Corewell Health in Royal Oak, MI. Prior to this, he completed a transitional year internship at ProMedica Monroe Regional Hospital (Monroe, MI). He has contributed numerous pages, articles, essays, and book chapters to multiple websites, including KevinMD, Doximity Op-Med, VisualDx, DermNet New Zealand, StatPearls, PathElective, The Pathologist, and Pathology Outlines. Social media has played a key role in his #Path2Path and his research interests include utilizing its different platforms to promote free, high-quality medical education globally. Prior to his residency training, he graduated from Michigan State University College of Osteopathic Medicine ('22) and attended Hillsdale College ('18) where he earned a degree in Biochemistry. Currently, he serves as an Ambassador for the online platform Knowledge In Knowledge Out, or KiKo.