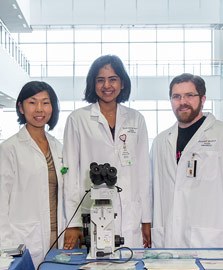 Become a CAP Junior Member
The College of American Pathologists' (CAP) Junior membership includes access to a variety of free or greatly discounted member benefit resources specific to your needs as a resident. The CAP provides guidance through each year of residency, helps keep pace with the changing roles of the specialty and ultimately prepares you to become a successful pathologist.
The CAP Junior Membership is free for all residents in the Accreditation Council for Graduate Medical Education accredited pathology training programs.
Engagement Opportunities
CAP Residents Forum
The CAP Residents Forum gives pathology residents a voice in organized pathology, promotes involvement of young leaders in CAP activities early in their careers, and establishes a network for pathology residents within the CAP. Learn more and join the CAP Residents Forum.
Pathology Careers
The CAP is committed to helping you take the next big step, from helping you find the perfect opportunity to easing the transition from Resident to Medical Staff. Access resources and apply for available jobs.

Networking with CAP Members
Join the residents group on CAPconnect. Follow the "new member" instructions. If you need assistance finding your Membership ID number, please contact Julie McDowell.
Fellowships
The purposes of the College of American Pathologists Residents Forum's Standardized Pathology Fellowship Application are to:
Streamline the fellowship application process.
Encourage ethical fellowship acceptance guidelines.
Build consensus on application deadlines.
Entrust oversight of the fellowship application process to the pathology chairs through the Association of Pathology Chairs.
Fill out Standardized Pathology Fellowship Application (PDF, 134 KB) (Word, 205 KB)
Pathology Fellowship Directors: Please let us know that you accept the Standardized Pathology Fellowship Application. We will post your program's name for your future fellows' use.

Awards
The CAP Foundation offers awards and fellowships to CAP member residents.

CAP for Medical Students
Learn more about a career in pathology and how to join the CAP Medical Student Forum.

Additional Resources